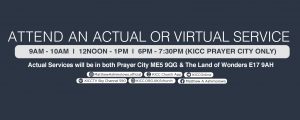 For the foreseeable future a booking system will be used to ensure everyone's safety.
Services will run every Sunday at both Prayer City and The Land of Wonders.
Please arrive 1 hour before the start of each service to enable us to complete the necessary safety requirements and seating arrangements. If you are a steward please arrive 90 minutes earlier. Onsite assistance will be available for the elderly.
SEATING IN CHURCH
Seating will be in designated zones and you will be able to specify how many people you are coming to church with to ensure you are seated with family and friends.
TRANSPORTATION
If you do not drive, please book your seat on one of KICC's free return shuttle buses. Please see the shuttle service pick up locations and operation times HERE