ABOUT US
The Noah's Ark Food Bank (NAFB) is a KICC ministry dedicated to taking a stand against poverty.
We currently run three programmes that bring practical help to those in need within the community.
For individuals and families
The Noah's Ark Food Bank distributes food packages on the third Saturday of every month at KICC Prayer City, Chatham, Kent and KICC The Land of Wonders, London. If you, or someone you know, needs support please click here
In schools
We are currently fulfilling the Breakfast Club needs of more than 3,000 children in local Medway and Kent Primary schools. We also supply food to the families of pupils in need. If your school would like to benefit from this free service, please click here
In the Community
Currently, our volunteers work alongside the West Kent Quakers and other local charities to support activities at the Open House Project, Rochester, Kent. Activities for the homeless and vulnerable within the Medway community include the provision of showering facilities, hot soups and drinks, and a meal.
Our other collaborations with local agencies include supporting the Young Carers, Essex; the Mental Health Treatment Unit, Croydon and Steeple View Community Association, Essex. We also collaborate with Fareshare Kent, a charity that redistributes food at subsidised rates to charities and community organisations working with disadvantaged people across the region.
The Food Bank also works with The Lily Smith House in Maidstone, and its sister organisation in Ashford, Kent. This charity provides supported housing and other empowering services to vulnerable and homeless individuals.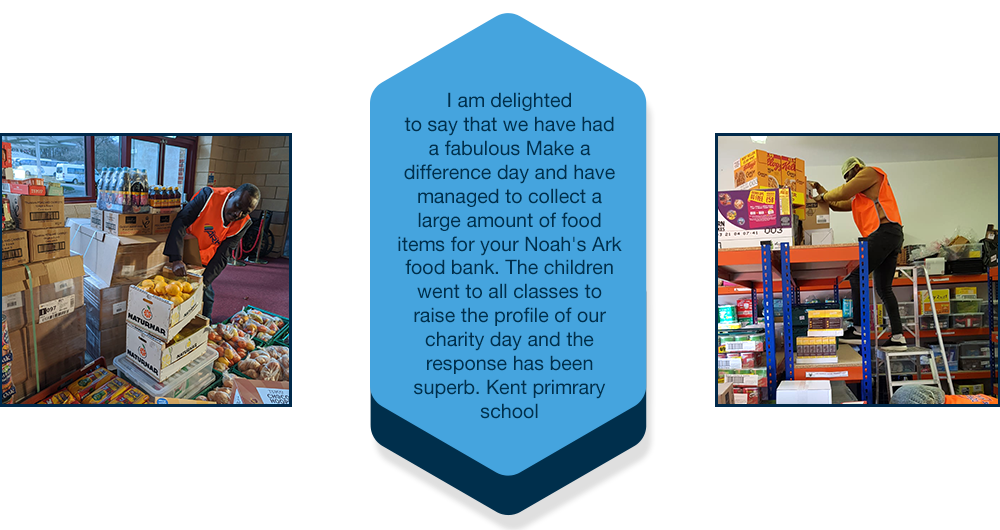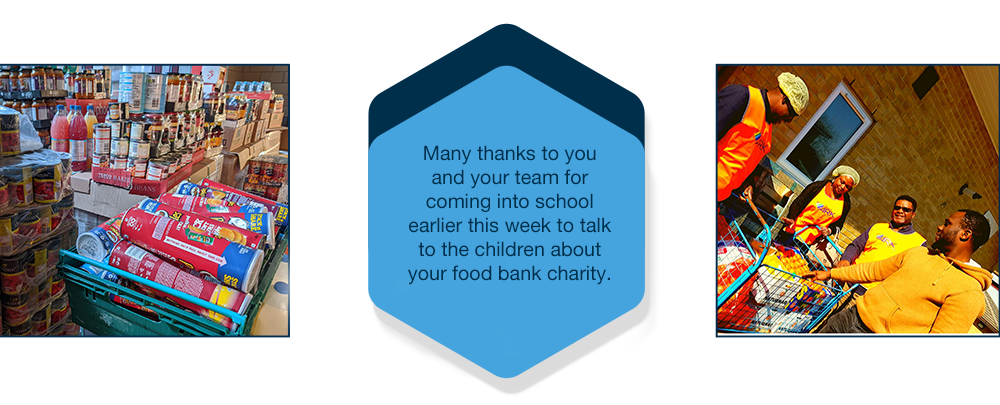 THE NOAH'S ARK COMMUNITY KITCHEN
The Community Kitchen currently collaborates with various organisations in the community within Essex and London, including:
Branches Homeless Hostel, Walthamstow, London. We have cooked for the residents of this resettlement support unit for single homeless people since 2013. Our cooking activity takes place onsite every first Saturday of the month from 2pm.
Steeple View Community Hall, Basildon, Essex. Launched in December 2014 this collaborative project with Basildon Council enables us to not only cook and serve a meal to the elderly but also provide a space for socialisation, offering seniors quiz nights, salsa dance sessions and even musical evenings. This initiative is also supported by other local agencies.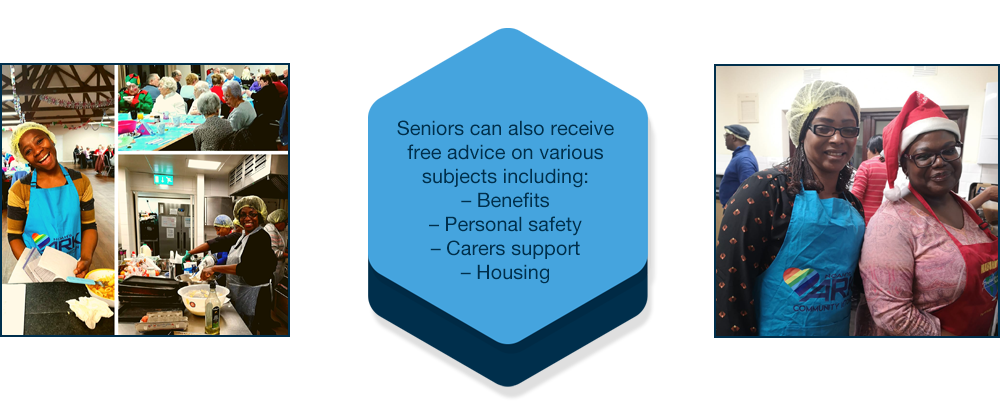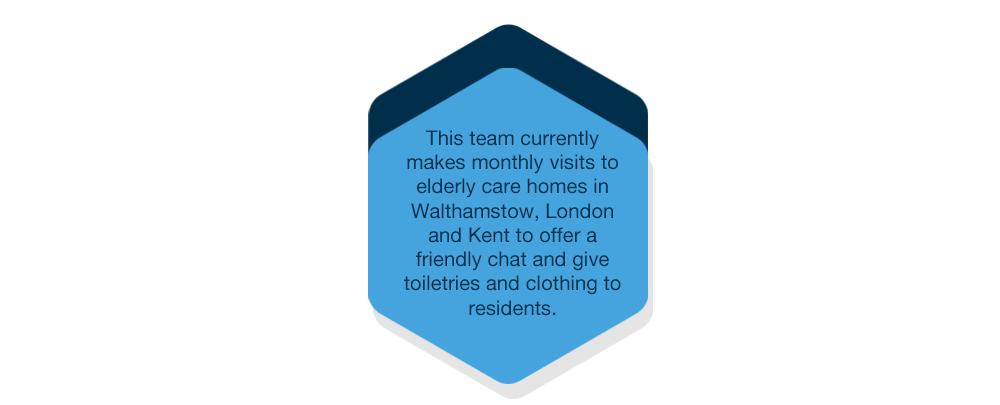 Coming soon! An alternative church service with social gatherings for the elderly at KICC The Land of Wonders, London.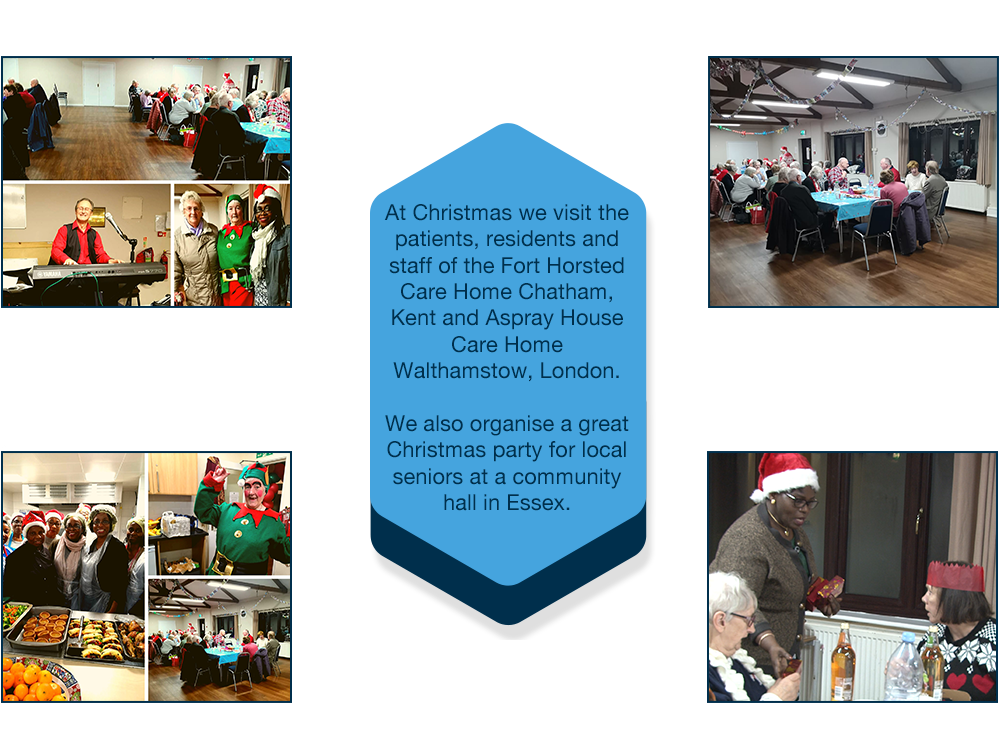 Our Christmas Outreach is a major community event that combines the efforts and skills of several organisations and churches teams as we all reach out to touch the lives of people within our communities in Kent, London and Essex.
As well as giving more than 100 Christmas hampers to families and the homeless and displaced at Branches Homeless Unit (Walthamstow, London) Lily Smith House Maidstone & Ashford (Kent), Swan Housing Association, Essex and the Simon Mead House, Ashford, Kent; we bring the Christmas spirit to the hearts of those who may be without family at this special time.
Support with your time
Our volunteers currently serve in many capacities including catering, project management, logistics, report writing and befriending. There's always room on the Ark for more!
Support with your talents
Join the mission to eradicate poverty and hunger within the community by hosting your own fundraising events. We can help you to plan – whether it's a fun run, or charity walk, bake sale, or dyeing, cutting or growing your hair – the list is endless and we would love to support you, as you support us.
Support with your treasure
Your financial gifts will be used to feed those most in need in the local community. You can give online or call the Noah's Ark to make your donation today.