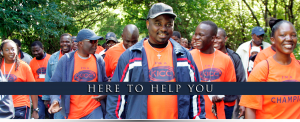 KICC Community Initiatives & Outreaches
KICC seeks to make positive impact in the community. Here are several ways that KICC continues to be a blessing to the community.
Breaking Educational Barriers
Breaking Educational Barriers (BEB) is an educational community initiative of KICC. BEB seeks to equip young people and their parents with the tools to prepare for educational excellence, regardless of background, ethnicity or gender. It was established in 2012 following the Breaking Educational Barriers Conference held with Oxford University, which sought to redress the low number of applications to Oxford University from certain community groups. Following the success of the conference, a number of other initiatives were established to raise aspirations and engage with the community, including Day Trips to collaborating Universities, Parents Surgery, University Application Workshops and university boot camps for those attending university for the first time.
...discover more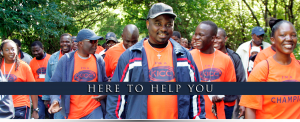 In February 2013, KICC in collaboration with Oxford, Cambridge and Harvard Universities, brought to the Breaking Educational Barriers convention, educators, graduates and undergraduates who were able to inform, encourage and challenge young people and their parents to strive for educational excellence. The attendance was almost 1,500 people. The goal was to encourage everyone to Dream Big, Aim High & Achieve More in their personal and educational lives and therefore in the community at large. This was the theme for the convention. Speakers included Matthew Ashimolowo, Senior Pastor of KICC, Dr Cressida Ryan, Schools Liaison and Access Officer, Merton College, Oxford and Dr Tony Sewell, Director of Generating Genius. Topics included 'Funding', 'Subject Choices', 'How to get into the best Universities', Student Life, Mentoring and more.
Champions' Walk
Every year, since 2004, the Senior Pastor, members and friends of KICC gather together to do a 10 kilometre walk. Young and old join in to combine fun and exercise and raise funds for charity.
…discover more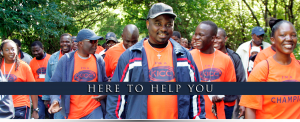 Champions' Walk is an initiative through which KICC raises funds for various charities both nationally and worldwide. These charities have included The Sickle Cell Foundation, World Vision UK, a new school building in Milopa in Zambia, Diabetes UK, The Anthony Nolan Trust, British Association for Adoption and Fostering, African Caribbean Leukaemia Trust (Daniel De Gale), the Pinnacle Project, Centre for African Development and Mayor of Waltham Forest Charity Appeal.
At the start of each walk, there is prayer, a talk of the importance of warming-up before exercise, followed by a warm-up session. The Senior Pastor welcomes everyone and then the walk begins. Water is provided for walkers and a certificate of completion is awarded to all who complete the entire 10km walk.
Legal Counseling Department
The Vision of the Legal Counseling Department is to provide relevant, current and appropriate legal advice and counselling to members of Kingsway International Christian Centre and all other people within the local community, who are desirous of accessing legal services made available by the church, in line with the vision of our Senior Pastor.
...discover more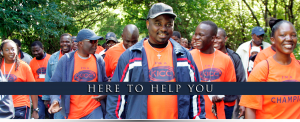 The counselors aim to provide advice and opinion regarding the substance or procedure of law in an atmosphere of warm acceptance where the counselee feels safe enough to explore and understand their feelings and thoughts before considering any action.
The counselors aim to provide advice and opinion regarding the substance or procedure of law in an atmosphere of warm acceptance where the counselee feels safe enough to explore and understand their feelings and thoughts before considering any action. We appreciate that we may not be able to solve all the problems presented to us, we aim to use our Christian values and beliefs to help legal counselees cope more effectively with their lives and to manage their challenges.
Currently, we use several methodologies to deliver our services and these include face-to-face counseling where legal counseling is provided during legal surgeries. We currently hold legal surgeries on the second Saturday of every month between 2pm and 4pm at KICC premises located at 1, Darnley Road, Hackney. We also hold Seminars and Symposia quarterly, we provide telephone counseling and counseling via emails in response to referrals from the Church. The symposia cover various areas of law, for example Asylum, Immigration & Nationality, Housing & Conveyancing, Debt Issues, Welfare Benefits, Criminal Law and Family Law. Members of the Team are pre-selected to present the agreed topics and to answer questions raised from those attending the programme.
Career Counselling Department
Career Counselling Department is a community outreach programme that provides career counselling and guidance in the areas such as: Assisting young people and adults to become job ready through positive interview techniques and fit for purpose CVs. charity.
…discover more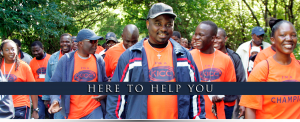 Progression pathways into higher education for young people.
Progression pathways to employment and training opportunities.
Promotion of a range of career options and access routes.
Post 16 options – vocational and academic.
The service is aimed at all regardless of age, background and qualifications. However, the following groups benefit significantly:
• People who are unemployed.
• People under threat of or recently made redundant.
• People seeking a career change.
• People looking to up-skill or retrain.
• Women returning to work after maternity leave.
• Young people in particular years 9, 10, 11, 12 and 13 and their parents.
Widows Outreach
In 2006, Pastor Matthew Ashimolowo, began a programme which can only be described as a vibrant demonstration of the Gospel of Jesus Christ. Pastor Matthew donates cloth, food, money and other items to some 1,500 widows in Ode-Omu, Osun State, Nigeria. The initiative began when Pastor Matthew was directed by God to donate cloth and other items to widows. He began giving to 300 widows, and each successive year, as the news of his charitable deeds spread, so did the numbers receiving the benefits increase. Latest figures in January 2018, shows over 17,000 widows being blessed by this initiative. Click HERE to see the latest video for 2018 initiative.
...discover more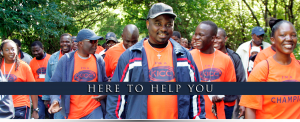 The widows are mostly aged, but among them are a number of young women in their early twenties who lost their husbands in tragic circumstances. Several of the widows belong to the Muslim faith but this has not stopped KICC from reaching out to them. The governor of the state commended Pastor Matthew's obedience to God's call.
KICC Christmas Day Outreach
Every 25th of December, KICC's outreach team visit a homeless hostel or care home to share Christmas cheer. Gift items donated by members of KICC are given out to the residents of the care home or hostel. These gifts are usually non-perishable food items and gifts of clothing like hats, scarves, gloves, socks and children's toys.
…discover more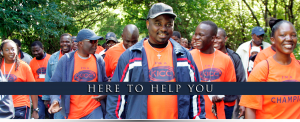 The outreach team begins with a prayer, and a brief exhortation. There is Bible-reading and it is not unheard-of that residents give their lives to Christ at some stage during the time of sharing. The residents usually demonstrate appreciation and joy at receiving the Christmas presents.
Befriending the Homeless Programme
Every first Saturday of the month, a sub-group of the Evangelism Team, reaches out to residents in homeless hostels, offering them a listening ear, light refreshments, and an opportunity to feel validated.
...discover more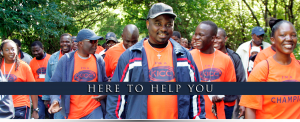 In preparation for the visit, the team prays and discusses the procedure for the smooth operation of things.
One of the main objectives of the team is building trust and relationships where none exist. They also support people in the community who may feel a sense of hopelessness due to their current social conditions. The team also provides encouragement and prayer support.
Befriending is the term that describes the fact that the volunteers work on a one-to-one basis, supporting people in the community. The homeless are a particularly vulnerable group who need to feel considered and validated.
Cooking for the Residents of Branches (A homeless unit in Waltham Forest)
A group of KICC members visit Branches, a homeless unit in Waltham Forest regularly and prepare a tasty, hot meal which they serve amidst a spirit of evangelism. They pray with the residents and encourage them in the Word. The level of care given leaves the residents with a real sense of belonging.
The hostel houses both male and female residents and offers counseling services as well as shelter. It does have a high rate of residents who move on to rented accommodation.
Christmas Gifts and Carols for residents of Asprey Care Home
The Asprey Care Home for the elderly is just yards away from KICC Land of Wonders, Hoe Street, is a private care home with nursing services. It provides specialist care for residents with illnesses such as Alzheimer's, cancer, stroke, and visual impairment. Asprey House accommodates 64 residents in single rooms who come from various ethnic backgrounds.
...discover more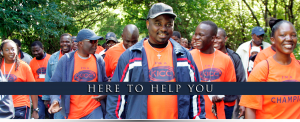 In December 2012, an appeal was sent out to KICC for gifts of a non-perishable nature for the residents in Asprey House. KICC members are indeed cheerful givers, because the response to the appeal was overwhelming, and boxes of gifts were collected and wrapped.
The Christmas gifts were taken to the care home by women from Winning Women, a team spearheaded by the Resident Pastor, Yemisi Ashimolowo. Also in attendance were members of the choir and volunteers who led the Christmas carol service.
The reason for the season was evident: there was a spirit of love, giving, cheer and goodwill during the festivities. Residents joined in during the singing of carols and Christmas songs, and the gifts were received with delight and gratitude. The Winning Women outreach had a winning combination of giving and ministration.
Prison ministry (Pentoville Prison)
The Prison Ministry team visits Pentonville Prison to give prayers and encouragement to the prisoners. This remains an on-going project and several prisoners have received hope, encouragement and a lot of them have given their lives to Christ. It is the Church's desire to step up the outreach to this group by supplying gifts to the children of these incarcerated men. This will be done by collaborating with an organization that the prison chaplains have connected the Church with.
Purchase of a care equipment for an adult hospice in nearby Essex
KICC Winning Women team became aware of the need for an infection control trolley for the care of dying patients in the above hospice. In November 2011, the Winning Women team rose to the occasion by providing a cheque for the purchase of this infection control trolley which is meant for use in isolation nursing of terminally ill patients with a communicable disease at this care home for the elderly.
The Christmas Hamper Challenge
The Christmas Hamper Challenge is an annual event that brings the love and the spirit of Christmas to families who are disadvantaged. Sharing the Gospel; through direct action. Being a blessing and making an impact in the community.
Noah's Ark
KICC's food bank programme Noah's Ark launched earlier this month! Individuals and families located in London and Kent received the food parcels that are made up entirely of member donations.
…discover more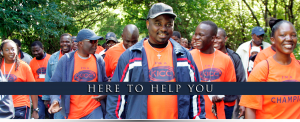 You can also be a blessing and take part in this wonderful initiative by donating food, clothes and toiletries – or even your time! We require many hands to pack, distribute and spread the word about this project. Donations can be brought to: Reception at Hoe Street or Prayer City.
If you know someone in need, then refer them to Noah's Ark. Simply collect a referral form from reception and return to the special box located at the reception desk or place in the offering basket.
For more information please contact: noahsark@kicc.org.uk or call: 020 8525 0000