Winning Women Convention – 2018 (Free Registration for the Convention Only)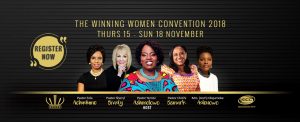 Date(s) - 15/11/2018 - 18/11/2018 - Time: 10:00 am - 8:30 pm
Location: Prayer City
Fee: Free
Speakers: Pastor Yemisi Ashimolowo, Mrs (Arch) Olajumoke Adenowo, Pastor Sheryl Brady, Pastor Chi Chi Bismark and Pastor Fola Achudume
Music: Psalmist Vicky Yohe
Sessions: Thursday 15th 6.30pm | Friday 16th 10am, 2pm, 6.30pm | Saturday 17th 10am & 6.30pm | Sunday 18th 10am and 6pm
Phone: 020 8525 0000
Email: winning_women@kicc.org.uk
Admission to The Winning Women Convention is FREE. Registration is required.
THE WINNING WOMEN CONVENTION T-SHIRT DAY
Click here to purchase your T-Shirt or here to purchase your Tailored Shirt for Saturday 17th November.
You do not need to register for the conference once you purchase either.
BOOK YOUR PLACE
If you already have an account with us please log in. Otherwise you can register after selecting your tickets below.